Our Mission
Rock Mills Enterprises are innovators in manhole cover safety and efficiency products.  The company is focused on delivering high quality products and support services.  Rock Mills Enterprise business practices are rooted in building relationships based on respect, honesty, and integrity.
Manhole Cover Lifting Made Safe and Easy
Fully one quarter of all Workers' Compensation claims involve back injuries costing billions of dollars annually.
The Lifter by Rock Mills is a new, safe and easy solution that eliminates the risk of injury while improving efficiency of the manhole cover removal task.
"Automatic Manhole Cover Lifting/Removal Made Safe, Easy"
We service several different markets and industries.
Municipalities

Public Utilities

Large government

Military bases

Universities

industrial complexes

Original equipment manufacturers

Telecommunications Companies

Operations and maintenance contractors
Customers
Grand Forks Air Force Base
Roger Williams University
Testimonials
I want to thank you for The Lifter we bought from you. It is an awesome piece of equipment. In the field it has come in very handy and does the job. There are several large covers though-out our system. With this device it makes it a lot easier to remove and replace these covers without breaking our backs or crushing any fingers. The Lifter has been a great investment for us.
We purchased one Lifter, had staff review it and used it in the field. Their response was extremely positive and we ended up purchasing another one. The Lifter is very simple to operate, has not presented on issue in the year it's been operating, and does not require the operator to exert any force to use. When you consider none of us are getting any younger and the cost of an average Workers' Compensation claim, purchasing a tool to lessen the chance of an injury makes sense and pays for itself many time over.
Your response team has developed a solution and it is on the way. Thanks to Paul and Jerry we will be back in service with our overnight part. It is remarkable that such customer service dedication is incorporated into your product.

We are in the process of ordering two more units because of product support and the overall durability of our Lifter. Our back injury claims potential has been reduced and we anticipate insurance premiums to reduce also.

This continues to be the right thing to do to protect our employees. Please share this with your great staff.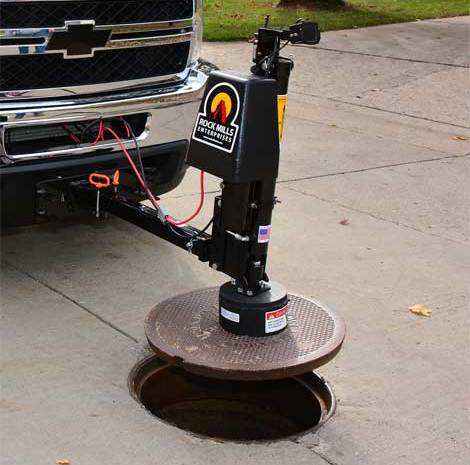 The

Lifter

Vehicle Mounted
Remote Control Operated
Powerful Magnetic Grip

Explore The Lifter