Our Mission
Rock Mills Enterprises are innovators in manhole cover safety and efficiency products.  The company is focused on delivering high quality products and support services.  Rock Mills Enterprise business practices are rooted in building relationships based on respect, honesty, and integrity.
Manhole Cover Lifting Made Safe and Easy
Fully one quarter of all Workers' Compensation claims involve back injuries costing billions of dollars annually.
The Lifter by Rock Mills is a new, safe and easy solution that eliminates the risk of injury while improving efficiency of the manhole cover removal task.
"Automatic Manhole Cover Lifting/Removal Made Safe, Easy"
We service several different markets and industries.
Municipalities

Public Utilities

Large government

Military bases

Universities

industrial complexes

Original equipment manufacturers

Telecommunications Companies

Operations and maintenance contractors
Customers
Grand Forks Air Force Base
Roger Williams University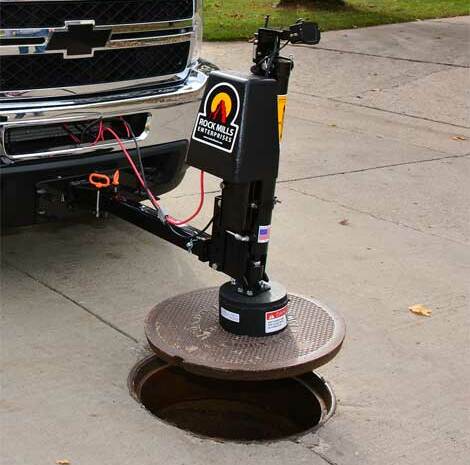 The

Lifter

Vehicle Mounted
Remote Control Operated
Powerful Magnetic Grip